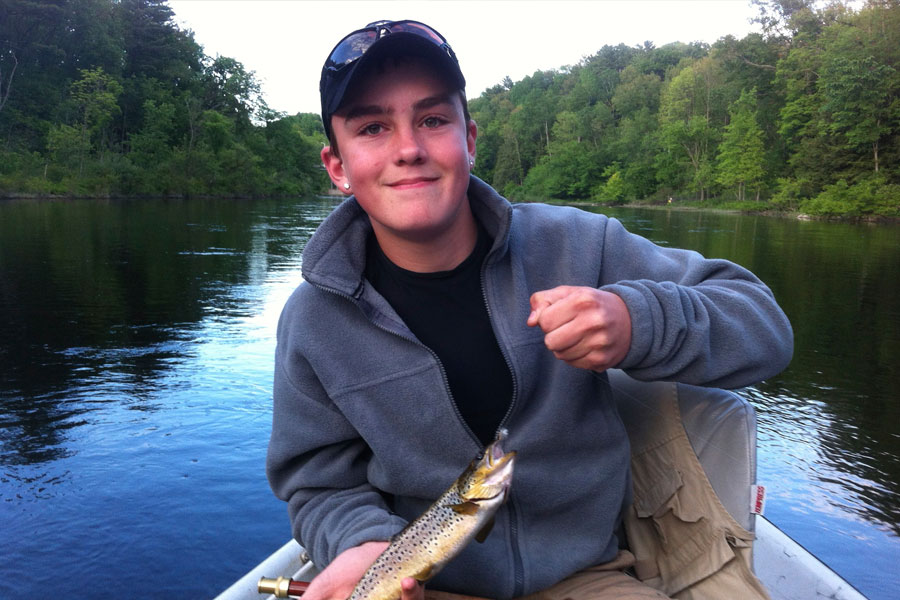 Michigan Non-Resident Fishing License Sales Down 40% in 2014 —
I had a heated discussion last year with a local fly shop owner in Michigan regarding the non-resident license increase. In short, his opinion was, "Anyone that complains about license costs shouldn't be fishing."
To that end, non-resident anglers agreed with him and non-resident license sales dropped 40% during 2014.
In 2013, Republican Governor Rick Snyder introduced a plan to overhaul the hunting and fishing license structure. The licensing plan was expanded into a convoluted ala' carte menu of sorts with minimal increases in some areas but nearly double the costs for non-residents (a.k.a. tourists who generate a lot of revenue for the state).
Despite the projected 20-million dollar windfall, license sales and participation was down across the board – most significantly in non-resident fishing. The net increase in hunting and license sales for 2014 totaled a mere $8.7 million dollars.**
According to American Sport Fishing Association, in 2013 Michigan ranked #3 as the in angling expenditures, with 1,744,206 total anglers spending $2,696,583,795. Of that total, 347,029 were non-resident anglers, who spent over $326.3 million dollars. In short, to gain $8.7 million dollars on a budget line item, the state jeapordized a minimum of $130 million in tourist revenue (for anglers only) and the associated sales taxes as well.
In 2013, Michigan ranked #2 in the list of top non-resident fishing destinations. After a net loss of 40%, it is unlikely they will even rank in the American Sport Fishing Top-10 for 2014.  Interestingly enough, all but two of the states in the top-ten offered a annual non-resident license under $50, with Oregon and Alaska offering 7-day licenses under $50.
There are two ways to look at non-resident anglers.  They can be viewed as takers who visit the state and exploit natural resources and should be charged a higher rate, or they can be viewed as revenue generators and lured with a competitive rate on licensing. Based on market response, Governor Snyder's 80% increase to non-resident anglers did not create an inviting perception.
In addition to the license increase, a $1 fee was added to all license sales to raise $1.3 million dollars of revenue for the "Pure Michigan" advertising campaign.  Clearly, the administration is interested in growing tourism but the increase in non-resident license pricing seems contradictory to that strategy.
Tourism is a competitive consumer market place. By comparison, in 2014 a party of four adults can go grouse hunting and salmon fishing in Wisconsin for one week and pay a combined license fee of $316. In Michigan, that fee totaled $908 — a substantial difference that goes a long way to cover lodging on a trip.
Modern day accounting is often pennywise and pound-foolish. Bean counters look at trends and make assumptions that look great on paper, but have absolutely no substance in the marketplace.
When analyzing the results of the program change, it's easy to calculate that a 20% increase on hunting and fishing licenses across the 2013 model would have net a higher revenue increases than the current structure – without losing 40% of non-resident fees and their associated tourist revenue.
In all likelihood, the restructuring had more to do with politics than simple math.  A simple 20% increase could have been construed by voters as a"tax increase" — for Republican, Rick Snyder a perceived tax increase would be party suicide.  To lessen the criticism, it appears he chose to soak non-resident participants instead.
At the end of the day, Non-Resident licensing is about tourism – nothing more or less – and tourism is a competitive marketplace. When trying to balance a budget you can evenly distribute the cost amongst all participants (including residents), or you can shift the bulk of the burden to those evil, non-voting tourists.
From an accounting perspective, somewhere there is a proponent of the increase saying, "See, the 80% increase only resulted in a net loss of 40% — and total license revenue [for all hunting and fishing increases] is up 7.8 million. Success!"
On the other hand, as much as $130 million dollars in tourist revenue has evaporated. In addition, the strategy does not address that today's casual angler is a tomorrow's hardcore angler – and that angler has made a conscious choice to fish and vacation in another area (which they might grow pretty fond of).
In response to the reaction of the price increase, the non-resident, annual license has been reduced to $68 dollars from $76 (which was up from $42 in 2013).  According to the MI-DNR FAQ, " An increase in the cost of the non-resident fishing license reflects the popularity and value of Michigan's fisheries and allows the DNR to create additional world-class opportunities."
How this will impact sales is anyone's guess. I mean, it's clear, everyone is just guessing at this point.
Dart's anyone?
*Source: American Sportfishing Association
http://asafishing.org/uploads/2011_ASASportfishing_in_America_Report_January_2013.pdf
** Source MI DNR:
In total, Michigan sold 2,303,660 hunting licenses to 727,307 individuals between March 1, 2014 and the end of the year, compared with 2,040,982 licenses sold to 777,303 hunters during the same timeframe last year. The increase in the number of total licenses sold was due to the new license structure that requires hunters to first buy a base license before purchasing tags for specific species.
For deer license sales in particular, 663,746 individual hunters purchased 1,371,077 licenses in 2014, a significant decrease from 1,531,984 licenses purchased by 710,186 hunters a year earlier.
Fishing licenses also were down, from 1,204,080 licenses purchased by 1,140,176 anglers in 2013 to 1,128,965 licenses purchased by 1,076,440 anglers last year, according to DNR data.
Financially, those figures resulted in license revenues of $57,242,319 in fiscal year 2014, roughly $8 million more than the $49,329,970 generated in fiscal year 2013. A $1 surcharge on hunting and fishing licenses last year also contributed an additional $1.3 million toward a campaign to educate the public about the symbiotic relationship between outdoorsmen and conservation.
Comments
comments