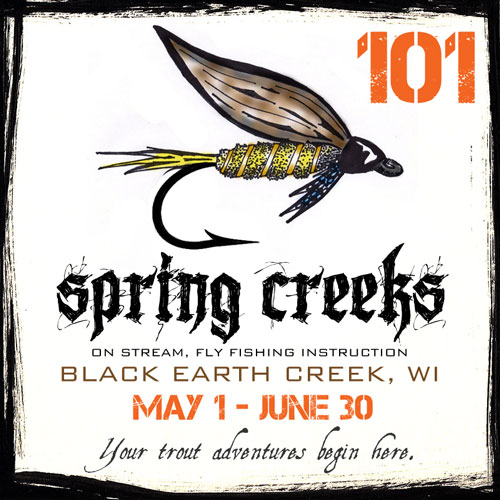 Fly Fishing spring creeks in Wisconsin's Driftless Area can be an intimidating experience.  Skinny water can be very unforgiving to the beginning fly angler.  Complex hatches, selective fish and high angling pressure are all factors the fly angler must overcome to have a productive, enjoyable day on the water.
Our spring creek class will focus on various presentation methods to make you a confident, versatile angler.  From prospecting with a team of wet flies to targeting rising fish with a dry fly, our one day class will expand your arsenal of tactics to fish Driftless Area streams with success.
What you can expect to learn:
How to read the water and identify holding lies, structure and feeding lanes.
Presentation methods for dry flies, wet flies and nymphs
Casting instruction, line manipulation; mending and streamer control.
Hatches, fly selection, uses and tying recommendations
Wading and stalking strategies.
Prospecting/searching tactics.
Site fishing and rise forms
Scouting and exploration tactics for targeting productive water.
How to fight, land and net fish successfully
Knots and rigging methods for various presentations
Using USGS stream flow data to improve fishing success
What you need to bring:
Rods, flies, sink tips and leader material will all be provided. You can bring your own rod(s) – an 8 to 9-foot, 4-6 wt single hand rod is recommended.
Polarized sunglasses are a must.
Waders /boots.
A wading staff or walking stick is recommended for anglers that need assistance on steep river banks and very uneven/rocky stream bottoms.
Camera and notepad.
Classes are held on Black Earth Creek, in Cross Plains, WI — which provides various access points, water types and consistent hatches.
The class runs from 2 p.m. to sunset.  Cost $225 for one person and $75 for each additional angler (maximum 3 anglers).  $100 non-refundable deposit (can be used for any re-scheduled class).
The "Chasing Bronze" class runs from July 15th through August 15th — call 815-341-9609 today for reservations.